The questions in this section are designed to show what sort of businesses answered the survey and, in doing so, they also give a good overall picture of the wet leisure industry.
Which region of the UK does your business operate from?
The order of size of these UK regions has stayed the same throughout the seven years of the survey and, to a large extent, simply reflects the relative economic size and power of those regions.
The one significant change that can be observed over time is that the North has shown steady and consistent growth, almost doubling in size from the 2011 figures.
However, when the regions are examined in more detail there are pronounced differences in the form that the wet leisure industry takes in each one and those differences are so noteworthy that we will examine them in depth later in the report.
How many employees do you have in your business?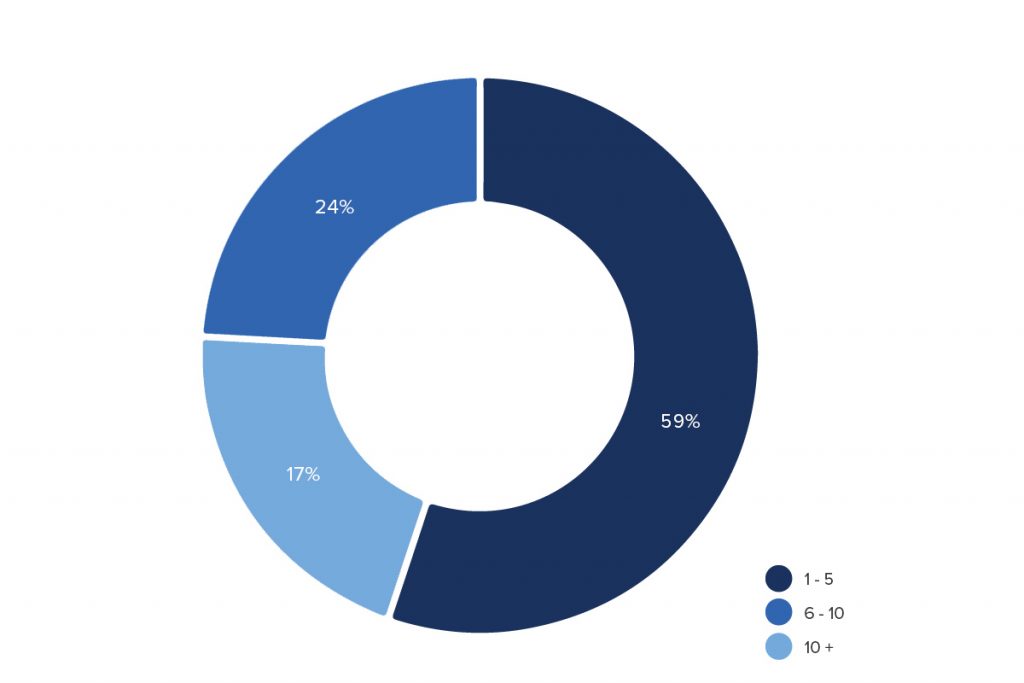 The wet leisure industry is predominantly made up of smaller businesses with between 1 and 5 employees. Businesses of that size make up 60% of the sample this year and that has been approximately the case over the whole history of the Wet Leisure Industry Survey.
More than 70% of the larger businesses (10 or more employees) are based in the South East or the Midlands. They are more likely to be involved in the spa and sauna sectors than the survey average. It was therefore not surprising that their business year was much less influenced by the weather. On the other hand, they were affected by the vagaries of the economy and the influence of Brexit. The majority of these businesses were trading as a spa distributor as well as a retailer.
But let's put that into context.
Which Sectors of the wet leisure industry do you serve? Please check all that apply.

This is the first year that the spa sector has outgrown the pool sector in our industry sample. 77% of our respondents are building or refurbishing pools but almost 81% are selling spas and hot tubs. For every sauna dealer there are 2 spa dealers.
The 'Other' section includes animal hydrotherapy installations as well as steam rooms and swim spas.
Are you customers and clients domestic, commercial or a mixture of both?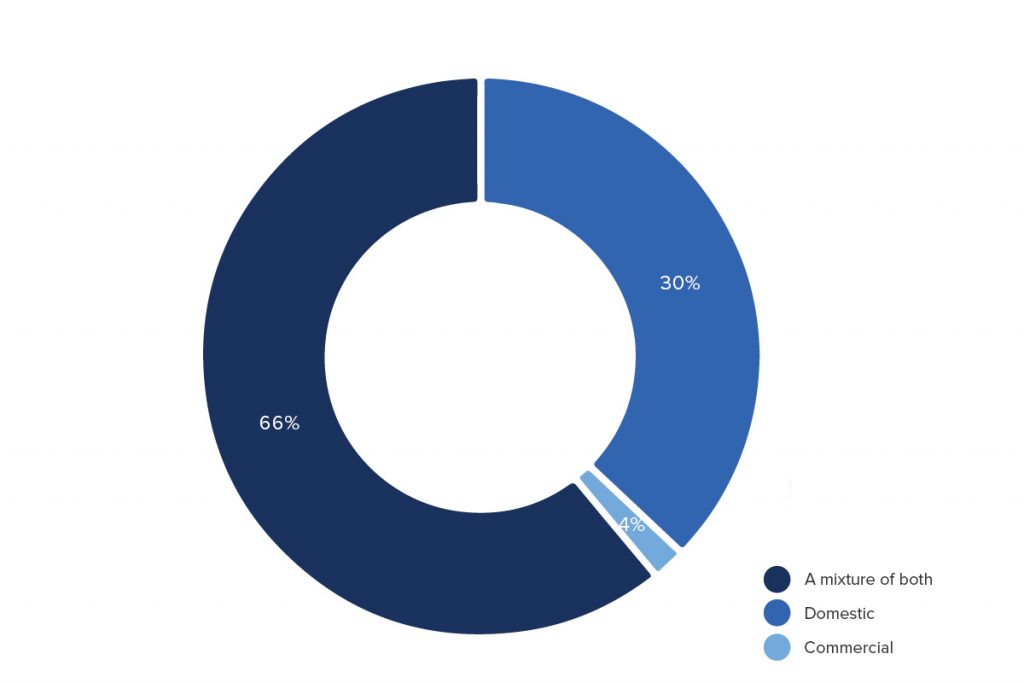 This years survey shows an increase in the purely commercial sector from 2% in previous years to almost 4%. It is too early to describe this as a trend but it is true to say that the importance of pools, spas and saunas in the leisure and holiday accommodation sector has shown marked growth in recent years.
As the market gets bigger and installations become more complicated it is a reasonable assumption that some businesses will decide to specialise in that field.
Having said that, with automated control and dosing systems as well as UV water treatment and LED lighting becoming as popular in domestic installations as commercial ones, the two main sectors of the industry are, if anything, becoming more and more similar in terms of necessary skills and technical knowledge.
What are the services that you offer you customers? check all that apply.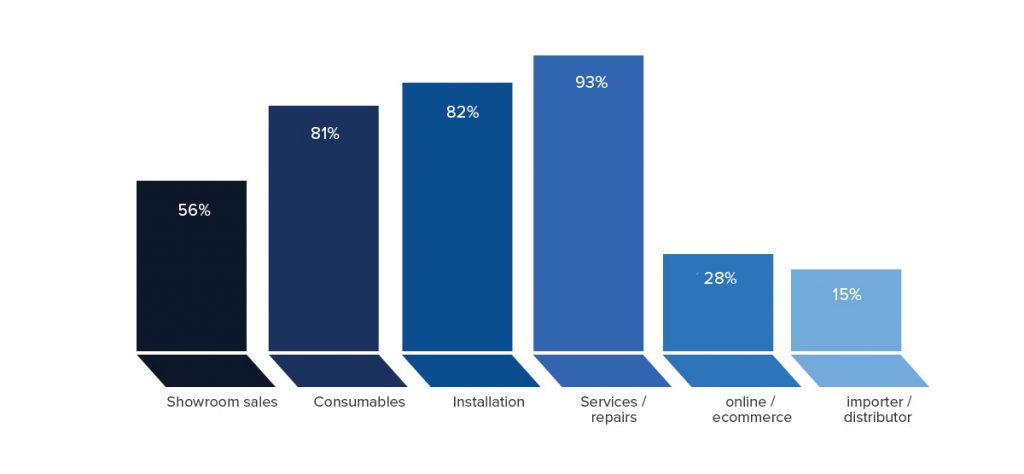 Service and repairs has been the most commonly offered service by survey respondents since 2013 and, at 92%, it has increased in importance even on last year's figures.
If we look back to the first year of the survey, 2011, then we are looking at an industry where Installations, at almost 90%, represented the most commonly offered service but in 2013 that began to loose share to Servicing and Repairs and that trend has steadily grown over the last 4 years.
There are a number of potential reasons for this growth in importance of Servicing and Repairs:
•  The country's stock of existing pool, spa and sauna installations is slowly growing. There are more installations to offer service contracts on.
•  Wet leisure installations are becoming technically complex and are less suited to DIY maintenance.
•  Service contracts are popular with commercial installations whether those are health clubs, hotels or holiday rentals.
•  Service contracts provide regular income for wet leisure businesses and support an on-going customer relationship that can make it easier to sell in further products and services such as refurbishments.
Online and e-commerce sits at 27% this year, just two points down from last year's figures but that is a significant drop from the 39% reported in 2011 and 2012.
The world of e-commerce is a fast moving one and has changed significantly in the last 5 years. It is true that the overall market value of e-commerce has grown and is continuing to grow but the digital landscape is a highly competitive one where fewer, bigger players are starting to dominate. It could well be that is beginning to be the case in the online, wet leisure market too.