Would you describe most of those sales as being at the top-end of the market, budget conscious or somewhere in between?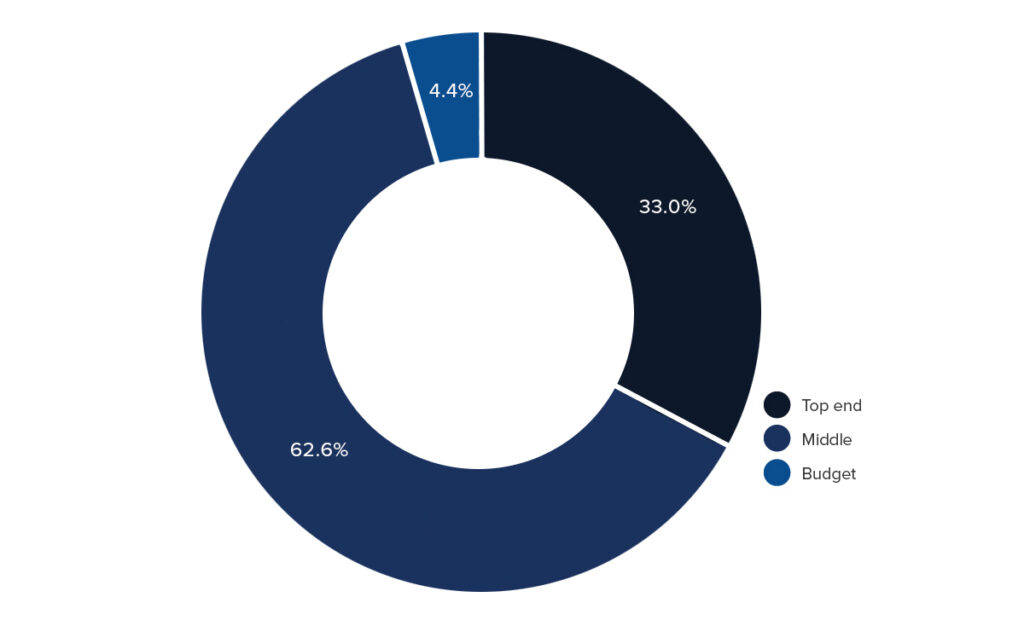 With the sudden and impromptu fair-weather boom in regard to hot tubs and above ground pools it would have come as no surprise if the budget sector had seen an increase in sales but it appears from the above chart that budget conscious purchases have remained at about 4% of the market.
That's good for the industry.
The remaining 96% of sales represent an opportunity to make a better margin and a quality product is more likely to motivate further investment.
"At start of first lockdown it felt like people would buy anything at any price. We could not keep up and could not get enough stock."

"So many new customers for inflatable tubs and knock on sales later in the year once they got the bug!"
Top end sales were most prevalent in the South East and South West. Other than the region they operated in, the businesses making those sales conformed to survey norms.
What marketing and advertising do you do for your business? Please check all that apply.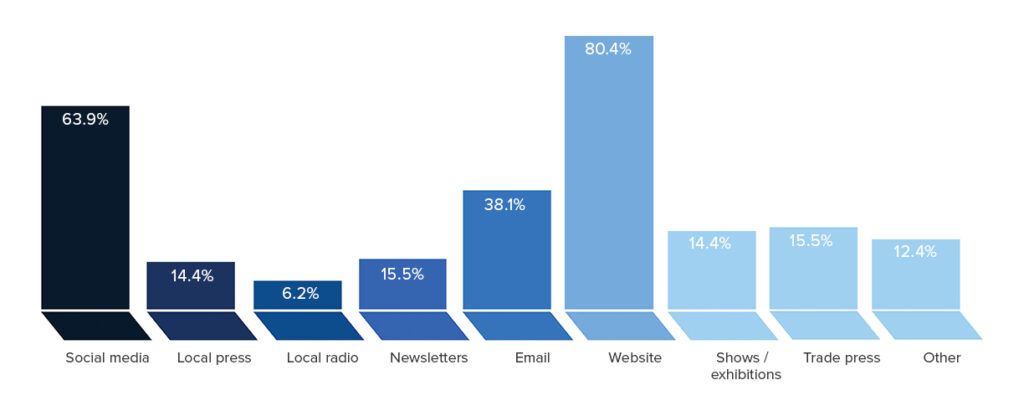 Social media continues its steady rise as a marketing tool, up another 4% on last year to its highest ever level.
Websites are so much a 'given' in the modern world that it seems remarkable that the survey suggests that 20% of the businesses that responded do not, in fact, have one.
Just over half of the advertising and marketing that the respondent businesses undertake happens offline. Local press and local radio, trade press, shows and exhibitions: these represent about 50% of their marketing efforts and that's not to mention 'word of mouth' which is by far the most popular form of marketing not listed in the choices.
"We find word of mouth works better than any advertising. We are 90% sure of getting the contracts through word of mouth, it does save lots of wasted time on enquiries through advertising."
Which of these market trends are your customers following?

The choice between luxury and economy is most often a question of the customer's budget, of course.
"Joe Blogs is looking for mid-range. Those "with money" are going high end."
The movement towards eco-friendly and energy saving products is no longer a trend as such, rather it is a reflection of how we have all changed our lifestyles in the face of climate change and a desire to live more sustainable lives.
"Chlorine free alternatives and air source heat pumps."
It seems that the summer lockdown made people a little less fussy in their buying decisions, simply keen to get into the garden and into the water.
"This year they have been looking for anything that was available immediately."
The idea of customers looking for something that can be unique to them and a reflection of their own aesthetic is becoming a common thread and may well be a forthcoming trend to take note of. It is something that applies across the whole wet leisure industry from bespoke saunas to retrofit products used to customise and existing pool.
"Our clients are looking for elements of all four of the above options, but mainly a bespoke design that fits with their budget and aspirations."