The questions in this section are designed to show what sort of businesses answered the survey and they also give a good overall picture of the wet leisure industry.
Which region of the UK does your business operate from?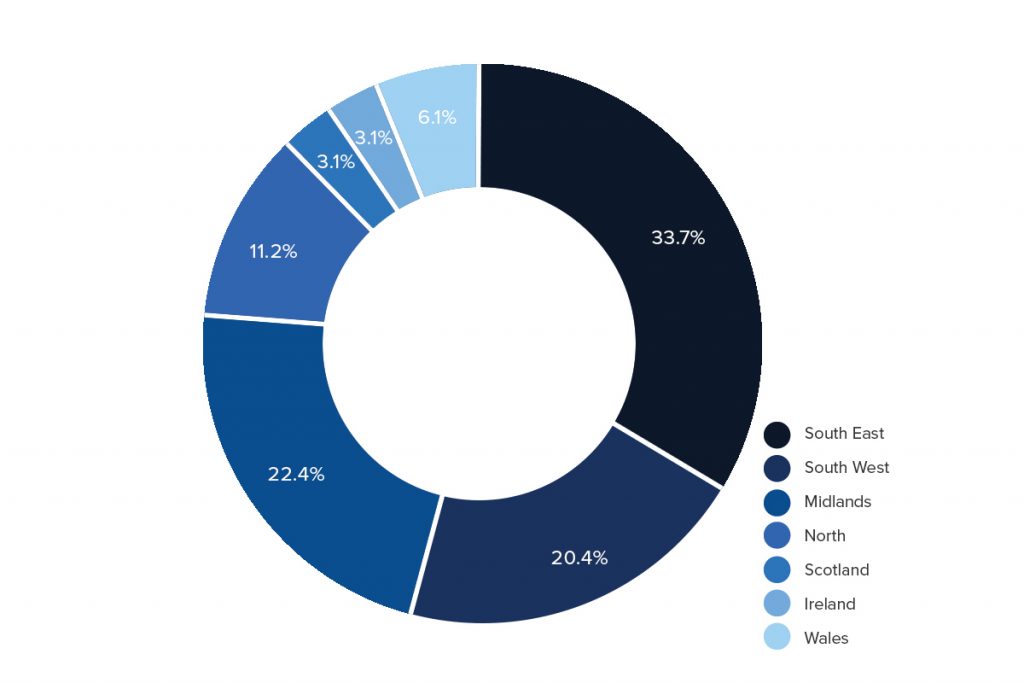 Broadly speaking, the geographical spread of the Survey respondents across the UK has remained the same since the Survey began in 2011.
To a large extent, it simply reflects the relative economic importance of each of these regions across the country with one significant outlier: Scotland. The Scottish economy is strong and growing. London and
the Thames Valley may be two of the richest areas in Europe but Edinburgh is also one of Europe's largest financial centres and yet our industry is grossly under represented in Scotland.
How many employees do you have in your business?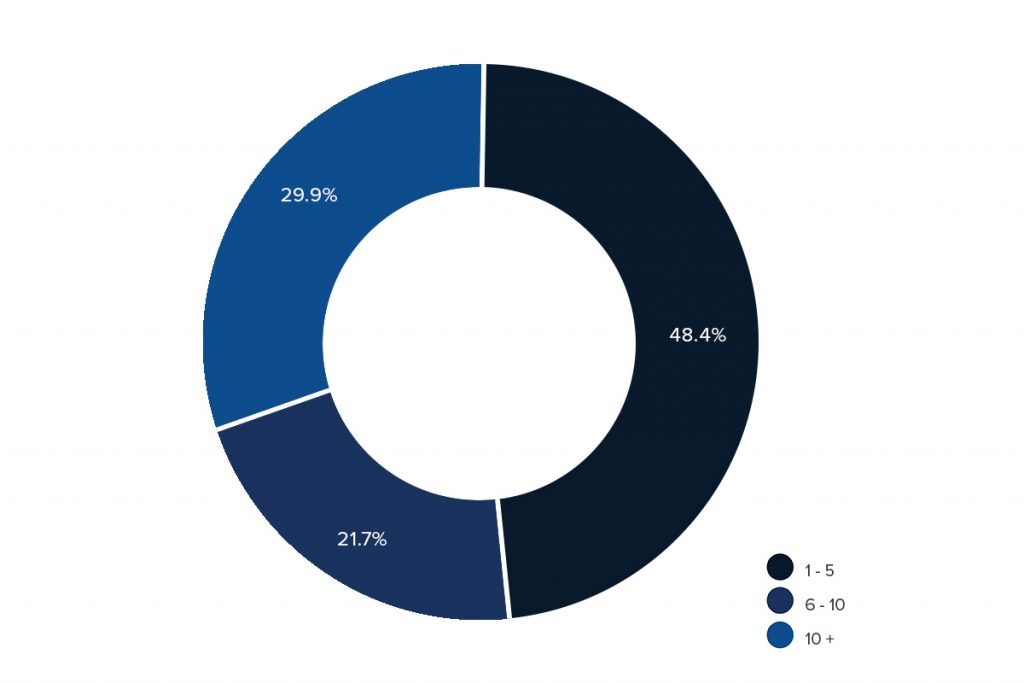 The wet leisure industry is predominantly made up of smaller businesses with between 1 and 5 employees. Businesses of that size make up almost 50% of the sample this year and that has been approximately the case over the whole history of the Wet Leisure Industry Survey.
Where we see a significant change in this year's results is in the growth of larger, 10+ employee businesses to almost 30% of the survey respondents. The biggest that sector has been since our records began.
To put that in perspective, 96% of businesses in the UK have less than 10 employees in 2018; about 5.4million businesses.
The growth in the larger businesses could be an anomaly of this year's sample or it could reflect a broader change in the industry as businesses change their structure to respond to changes in customer demands
such as the growth in service contracts.
One piece of data doesn't represent a trend. It will be interesting to see if this growth is continued next year.
Which sectors of the wet leisure industry do you serve? Please check all that apply.

Pools and spas continue to run a neck and neck race for the top slot. They have actually taken it in turns over the last three years. This year, spas inch ahead by a few percent.
The sauna market has stayed relatively stable over the last few years and one sector that is showing real, year on year growth is steam. The majority of people who ticked the 'other' box went on to say that they were installing steam rooms and steam showers.
"There seems to be a growing awareness with customers on the benefits of sauna and steam which has helped sales plus the wellness sector continues to flourish meaning we are seeing a growth in some of our larger and higher value products."
Are your customers and clients domestic, commercial or a mixture of both?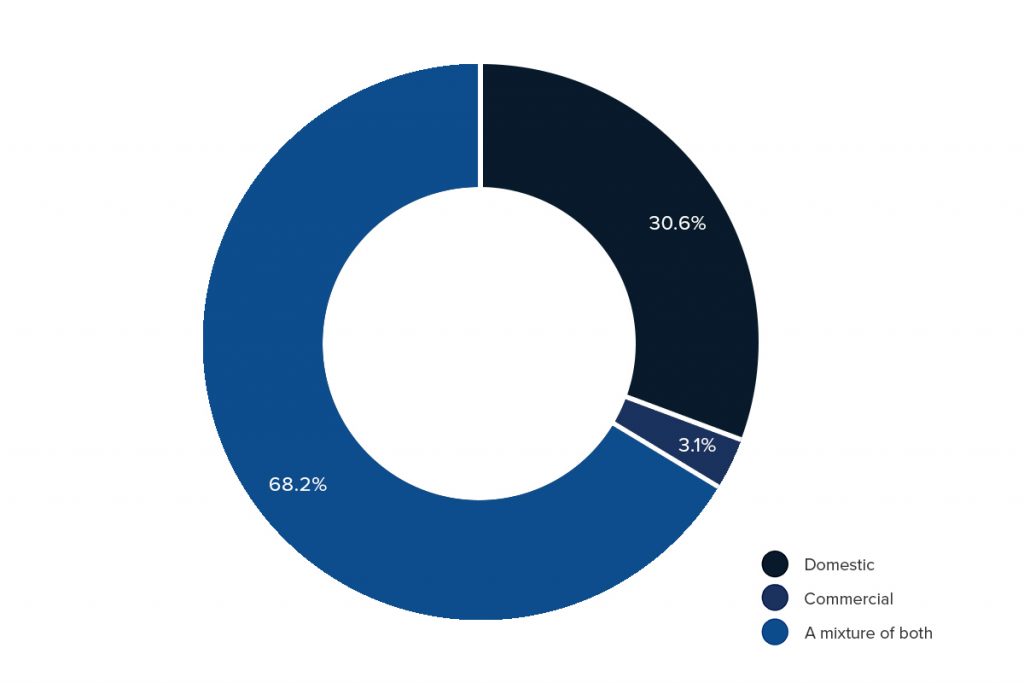 Three or four years ago, the purely domestic sector of the industry accounted for 40% of respondents. That has now reduced down to 30% in this year's survey.
This is almost certainly due to the relative increase in the popularity of spas and saunas to the holiday accommodation market. As one respondent said last year,
"There is a growing need for recognising the growth in holiday rental maintenance and guest change over services."
Apart from representing an area of growth, the technology and skills necessary for this market are much more akin to those that are relevant to domestic installations and so make it much easier for a business to have a foot in both camps.
What are the services that you offer your customers? Check all that apply.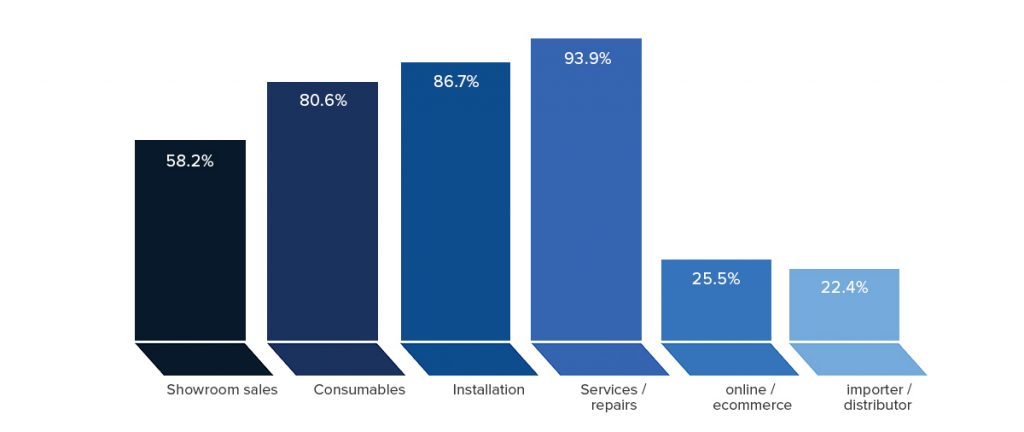 For the last 6 years, Service and Repairs has been the largest category of services that respondents have offered. The growing commercial maintenance sector and strong growth in refurbishment and upgrading existing installations helps put it at the top of the list.
Upgrading existing pools and spas has benefitted hugely from new technologies that we can offer customers that reduce their energy usage and their demand for chemicals while at the same time often improving their bather experience.
In the commercial sector, pool operators are looking to these same new technologies to reduce their running costs and offer a 'state of the art' bather experience. Programmable LED lighting, UVwater treatment and automation are just some of the ways that commercial pools are being upgraded to match customer expectations.
In summary.
The survey was open from October 2019 to January 2020. During that time we had the challenges of Brexit and the media storm that surrounded a winter general election.
Having said that, this first section of the Survey results shows an industry that seems to be weathering those storms and demonstrating a stability that was lacking when this Survey began in 2011.