July 2019 saw the highest temperature ever recorded in the UK – 38.7C – but the summer wasn't all about heat, heavy rainfall was a significant talking point too, particularly across parts of northern England.
It has long been accepted that the wet leisure industry appears to be solar powered – when the sun shines, business is good. Having said that, rainfall plays an important part too and over the course of the Survey, some of the worst years appear to have been more affected by too much rain than too little sun.
3 years on from the EU referendum, it feels as if an impending BREXIT has become a familiar part of the British economic landscape rather than something new and unsettling.
How did these issues, and others, affect the wet leisure industry?
On the following scale, how did you find business conditions this year?

92% of respondents described their year as being OK or better with almost 12% having had an Extremely Good year.
To put that in context, Britain's economy has grown at the slowest annual rate in almost a decade, according to official figures. An official recession has been avoided by economic growth in the final quarter but a sluggish economy is bound to impact on our industry at some point.
What would you say were the things that had the biggest influence on your business this year?

The weather remains the dominant factor but this year the spectre of BREXIT has risen in importance to 30% from just 8% last year. However, in the comments section it is clear that the issue here is uncertainty and that is one aspect of the BREXIT debate that has now gone away.
"Due to the uncertainty of Brexit many local councils have put a hold on spending on leisure facilities. Many foreign investors are also holding back on investing in the UK hotels and high-end residencies in London."
"The continued uncertainty of Brexit has delayed the purchase of hot tubs for many consumers and continues to do so."
"Uncertainty over Brexit has delayed work refurbishments and new build orders."
"The uncertainty over Brexit is still putting people off spending any spare money."
Another major issue that refuses to go away is the influence of the Internet. The ability of online retailers to undercut the prices of bricks and mortar businesses has been a bitter thorn in some people's sides for the last nine years, and probably much longer.
The business-to-consumer ecommerce turnover in the UK is expected to reach over 76 billion pounds by the end of 2019. That would mean about 18 percent of the retail market. It is growing steadily.
Amazon sells pumps, filter cartridges, chlorine granules and just about everything else that you might think of as a wet leisure product. What they can't offer is advice, knowledge and customer service.
The Internet is a factor of modern business but as countless businesses from HMV and Jessops to Mothercare have discovered, cutting margin is not a successful way of fighting back. Even big names that have survived so far have often closed hundreds and hundreds of stores.
On the following scale, how do you expect conditions to be next year?

Even in the face of these challenging issues, 55% of respondents expect next year to be Good or Extremely Good; that is roughly the same proportion as last year.
There are concerns about a post-BREXIT economy particularly in the light of how many wet leisure products are imported from Europe. There are concerns about a skilled labour shortage and there are more general concerns about consumer confidence.
"2020 will see the same challenges of 2019 with continuing uncertainty around Brexit and the outcome of Brexit. Consumer confidence is expected to be low with suppliers aplenty; so all suppliers will have to work hard for the sales."
"Retaining competent site staff and managing customer expectation regarding engineer lead time for site work. Price competition from on-line retailers; customers expect premises they can visit, installation and full traditional service but want to pay on-line price only."
During 2019, how many of the following products did you sell?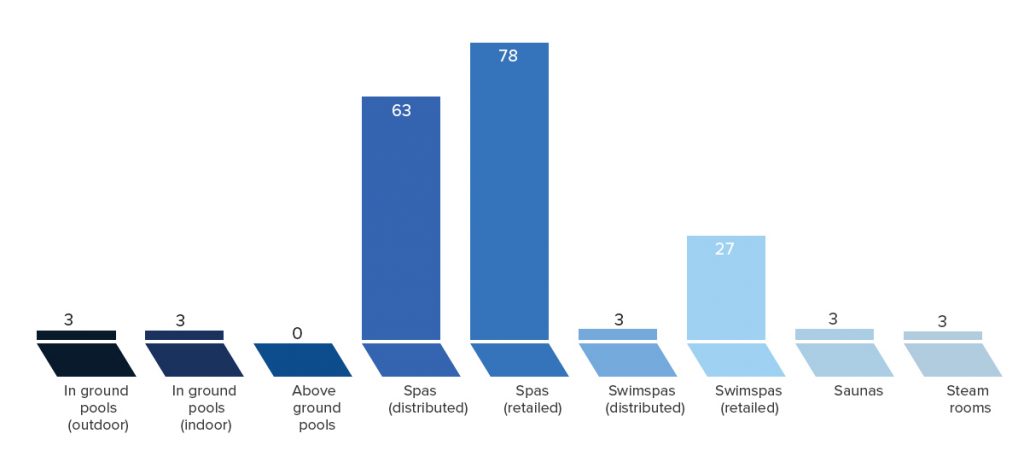 Looking at this graph from left to right and in comparison to last years, we can see a number of changes.
Indoor pools are catching up with outdoor installations and both have shown some small increase on last year's numbers while at the same time, the number of above ground pools has reduced.
We had seen last year as a bumper year for spas but this year we see a significant increase. The number of spas retailed has gone from 2,309 to 4,430. Of course, that doesn't represent an industry figure; it is the figure our respondents have logged.
Another area of massive growth is in swim spas where the retailed figure has grown from 108 to over 400.
Saunas have remained fairly static but sales of steam rooms have grown.