Would you describe most of those sales as being at the top-end of the market, budget conscious or somewhere in between?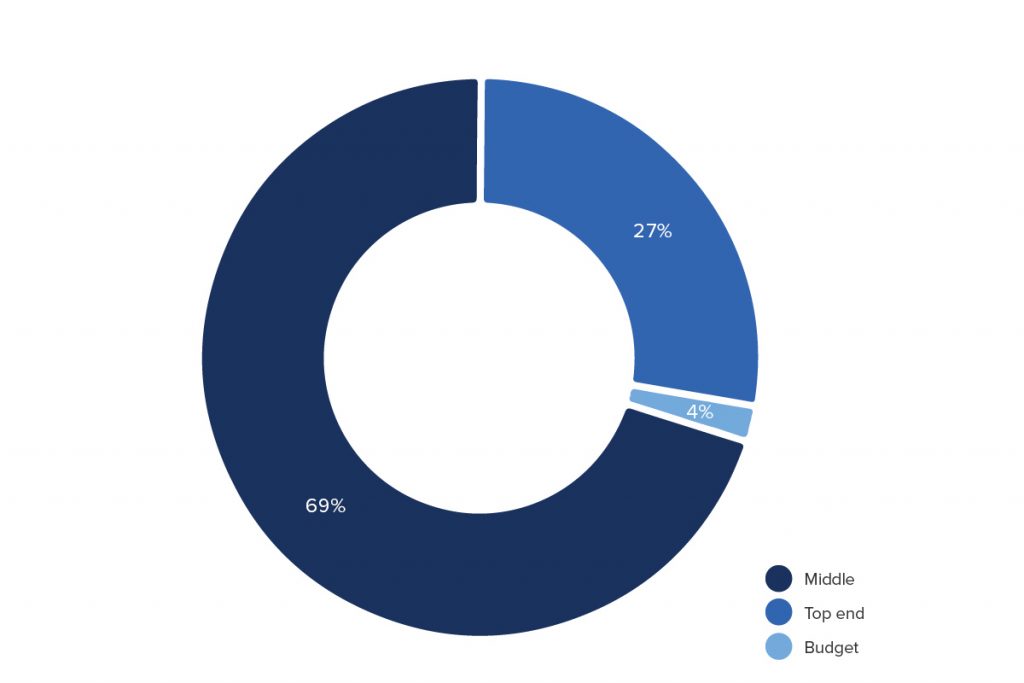 The most noticeable change here compared to last year's survey is the budget sector growing from 1% to 4% and that, in statistical terms, is a fairly small increase. If we look back 5 years, that budget sector was sitting at over 14% of respondents.
Businesses reporting a higher proportion of top-end sales were selling a lot fewer spas than the survey average but were strong in in-ground pools. Otherwise they conformed closely to the survey norms.
In comparison, the businesses concentrating on the budget market were confined to the Midlands and the North and they only sold spas and swim spas.
What marketing and advertising do you do for your business? Please check all that apply.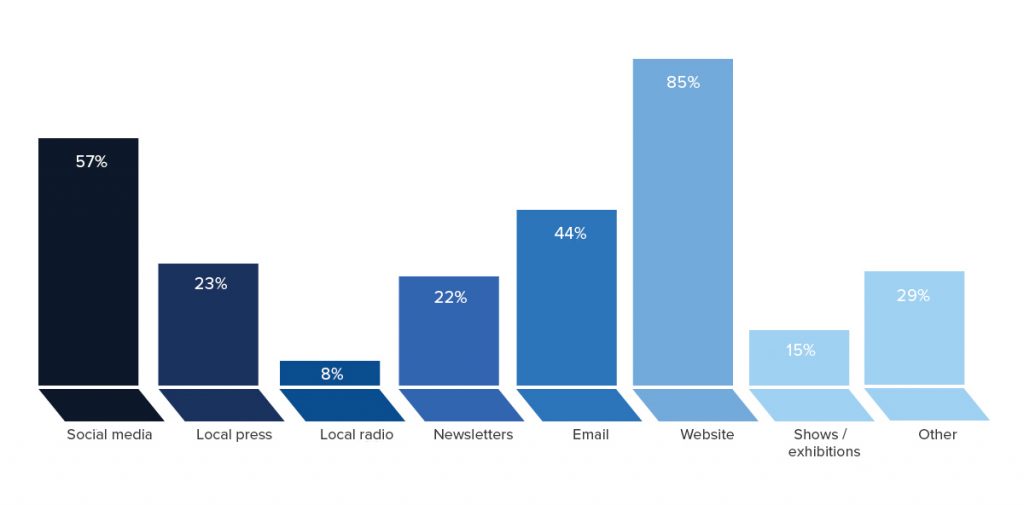 The relative weights and importance placed on these major marketing and advertising channels is the same as last year. In fact over the course of the survey the only real and noticeable change has been, not surprisingly, the inexorable rise of social media. 
We also asked respondents what their favourite form of marketing was.

Interestingly, word of mouth and recommendations are, in a way, the pre-internet forms of social media.
Facebook have mooted plans to make all advertising on the platform paid media. That is, business pages would no longer have even the relatively small amount of organic reach that they do now. How that effects businesses opinions of Facebook as a marketing tool remains to be seen but it should really make very little difference as most are only communicating with about 15% of their fans via organic reach already. 
Google AdWords was also specifically mentioned on a number of occasions.
Which of these market trends are your customers following?

Energy saving products and products to improve existing installations, such as in the refurbishment of pools, continue to dominate customer trends.
Energy saving – and therefore money saving – has become an important aspect of practically every consumer purchase. Everything from white goods to cars are ranked with an Energy Efficiency Rating, even houses.
Consumers are going to be expecting the same from our industry and perhaps it is time that wet leisure products went through the same testing procedures and also carried efficiency band ratings.
Of the responses we received from businesses operating in the pool sector, over 88% said that they were mostly or party refurbishing existing pools leaving only 11% saying that they were mostly working on new builds.
As the stock of existing pools in the UK increases and as the options for pool refurbishment grow with new technologies and practices, this is a trend that is set to continue for some time.