Would you describe most of those sales as being at the top-end of the market, budget conscious or somewhere in between?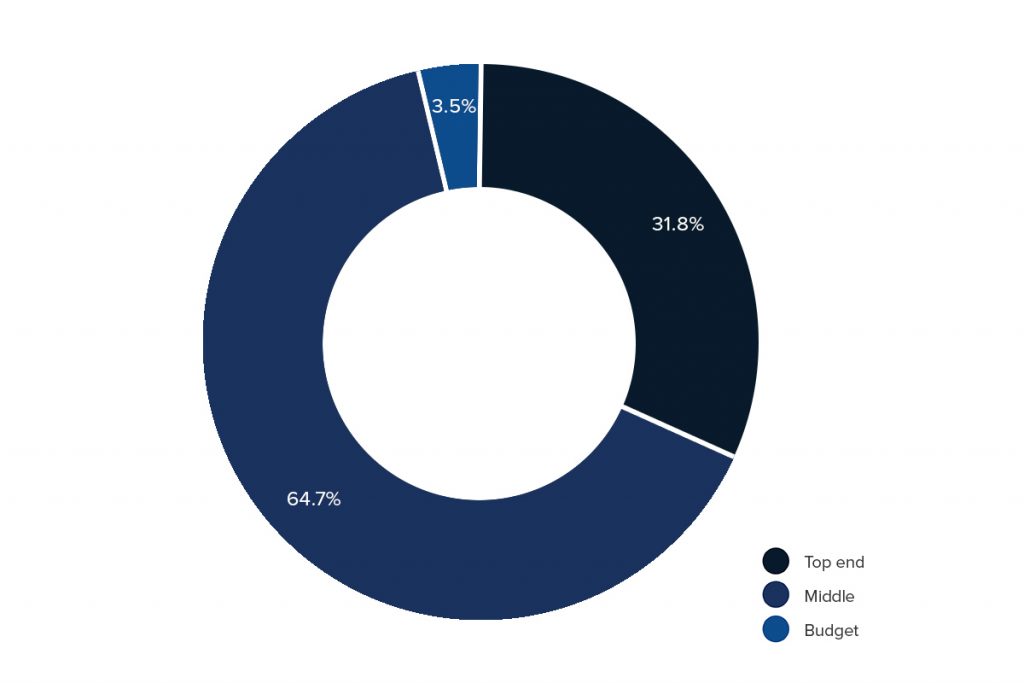 The largest number of sales reported from our respondents is from the middle price sector and that is how it should be, but let's look closer at the other two groups.
Budget sales were reported only in the Midlands, the South East and South West and spas were the most important sector here.
Top end sales were spread more evenly across the UK, including Scotland. Once again, the size of business by number of employees doesn't seem to affect inclusion in this group. Pools become the most important sector and this group of businesses were more affected by Brexit than the weather. Recommendations and word of mouth were by far their most popular form of marketing.
What marketing and advertising do you do for your business? Please check all that apply.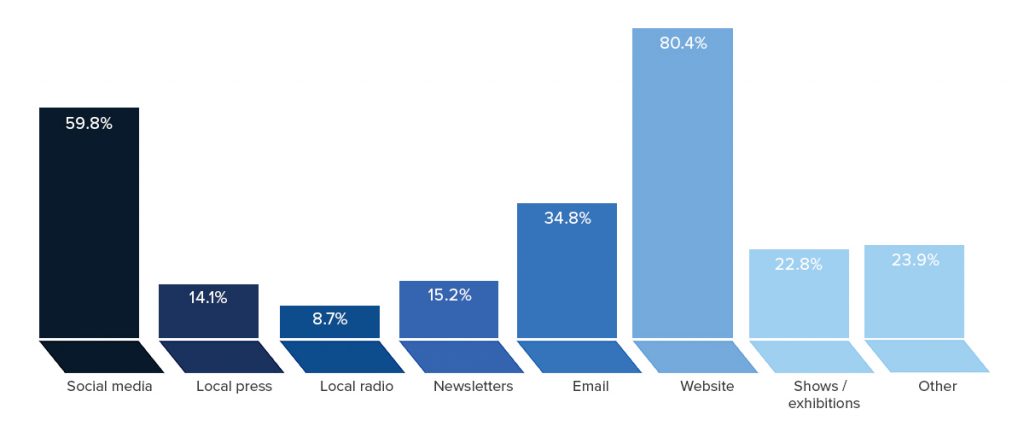 Apart from a steady rise in the use of social media as an advertising channel – up another 4% this year – this graph has stayed pretty much the same for the last nine years.
Businesses are creatures of habit and tend to stick to the tried and trusted media when it comes to marketing and advertising.
Of course, what this graph shows is what media are used, where as the quality of the marketing message when it comes to attracting attention, gaining interest and motivating people to make an enquiry, or better yet a purchase, is even more important.
Over the course of the wet leisure survey it does seem as if respondents have come to appreciate the need for advertising and marketing to promote and grow their business but, and perhaps rightly, word-of-mouth remains the most popular advertising medium.
"Word of mouth plus the vans being sign written."
"Google and word of mouth."
"Word of mouth recommendations. Reputation is key!"
"Most people find us on-line, am considering dropping all printed advertising."
"Being lucky enough that all of our commercial works comes from being on main contractor supplier databases and word of mouth or previous experience for domestic work."
"Word of mouth personal recommendation – look after your customers and they will look after you!"
"Yell.com and word of mouth."
"We find that the website is good for getting new leads for pools but nothing works better than word of mouth."
"Local radio and Facebook combined marketing works well for us in a rural area. Rather than promoting the spas and offers, promoting our company and services which gives consumers confidence in visiting our showrooms."
"Word of mouth."
Which of these market trends are your customers following?

Saving energy and improving existing installations stay at the top of this chart so no real surprises there although there were some interesting points made in the comments section.
"Something different to make their investment more unique and attractive."
"Heat pumps rather than boilers."
"More are becoming Eco aware but still far too many don't spend any money."
"Wellness definitely a factor."