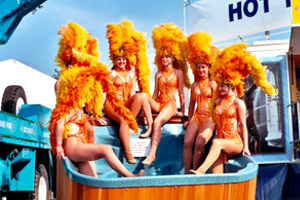 Having an open day at your showroom or holding an event somewhere special can be a real kick-starter to your season. What do you need to do to you get it right?
Invite your customers to visit you.
Hosting an event or holding an open day at your showroom can be a really successful form of marketing if everything goes to plan. Of course, that means that first of all you need to have a plan.
The wet leisure industry – be it pools, spas or saunas – is to some extent about 'family fun' and an open day or event can be an opportunity to capture that sense of fun and invite your customers and their families to come and share in it with you.
It's a bit like deciding to throw a party and inviting your friends, and in the same way that a good party needs careful planning, so does an open day.
For many wet leisure businesses, getting the season off to a good start is really important both in terms of turnover and how you and your staff feel about the year ahead.
A well-planned, successful event can be just the thing to get your year off to a flying start.
When and where?
If you have a showroom, then the 'where' is a fairly easy question to answer.
Your existing customers already know where to find you and your showroom is where you want the new customers to be. There is the advantage that you have products and displays already in place. You might have a wet-test area for spas, saunas to look at, maybe even a pool.
If you don't have your own showroom then you might think about approaching a local golf club or leisure park, perhaps a campsite or health club.
The thing to bear in mind when holding an event somewhere else is that the location that you choose should be a good match with your brand and the image that you want to project.
The next question is 'when'?
People are often looking for things to do on a Bank Holiday weekend – but of course you will probably have lots of competition from events and other businesses with the same idea.
If you are aiming at families, then school holidays and half-term weeks are a natural choice. If you are more focussed on up-market, leisure and lifestyle then those dates are perhaps less important.
Like so much marketing, the best plan is to see things from your customer's point of view. Imagine their lifestyle and schedule and plan your event when you think it might have most appeal to them.
Give yourself plenty of time to prepare.
Whatever dates you decide on, make sure that you have plenty of time to get things ready.
You will need to publicise your open day and invite as many people as you can.
You can use your customer database to invite existing customers and ask them to bring their friends. You might choose to run an advert in your local paper or use local radio, which is very good at promoting these sorts of 'newsworthy' events.
An open day is a great opportunity to use PR and, if you have a great theme or have invited a local character or celebrity to open or attend your event then you may well find that the local media can be persuaded to run the story.
There is more detailed PR advice here.
That little bit extra.
Having someone or something at your open day that captures the public's imagination can really draw in the crowds.
Whatever you choose to do, again, make sure that it fits with the image that you want to give your business.
Perhaps there is a local sportsperson who would put in an appearance? Would a jazz combo give an air of sophistication? Should you provide 'health food' snacks or have a fitness instructor to give advice about wellbeing and relaxation?
You aren't looking for a 'gimmick', you are looking to add value for the people who attend. Get it right and you will reap the benefits for months if not years. Get it wrong and you may not live it down.
Of course, 'that little bit extra' will come at a price and it is important to decide on a budget for your open day or event and stick to it.
Involve all your staff in the planning process. They will have their own ideas and their own contacts that may well be useful.
Your staff is going to be very important on the 'day' so the more involved they feel beforehand, the better.
The big day.
After all the planning, the big day comes.
No matter what you have arranged for your open day, what will make it a big success is exactly the same thing that makes a great party.
It's all about the people who are there.
The open day is about you and your staff meeting customers old and new, face to face.
Your staff need to be well briefed and well turned out. You need to make sure that you have enough people there so that breaks can be taken without leaving members of the public wandering around with no one to greet them or answer their questions.
And an open day is about meeting people, making new friends and sharing your knowledge.
If people have come to buy, that's great, but it isn't an environment for high-pressure selling. The open day will build your businesses reputation, provide an opportunity for PR and generate some great leads – as long as you remember to get the contact details of everyone who comes along – and all that will show a return on investment over time.
We hope that the ideas in this article are useful for you.
If you have a comment to make or there is anything you would like to add to this article, then please use the comment box below.
The concept behind WetLeisure.co is to make business growth for those working in the industry a reality and if you follow WetLeisure on Twitter, you will get notifications on free business support articles. If you register on the site you can join the groups and forums to share and benefit from industry knowledge.