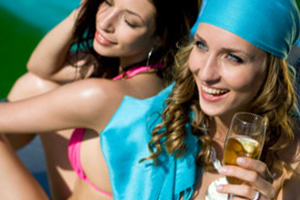 How you can use other people's holidays to boost your sales of spas, saunas and pools.
Some people want their summer holiday to last forever.
One of the great Internet success stories and growth industries is tourism and travel.
People spend hours and hours on the Internet researching their holiday and then, very often, booking it online too.
Because they are using the Internet to look for hotels, holiday rental properties and country parks, marketers can look at their search requests and see what things people find important. And they come up with some very interesting insights.
People are specifically looking for cottages and holiday rental properties that have a hot tub. They are looking for – and finding – holiday cottages that boast a sauna and they are looking for spa hotels and country parks that can offer pool, spa and sauna.
And that is just in regard to people looking for a holiday in the UK.
People holidaying abroad and staying in a good hotel are almost certainly going to be enjoying a pool and, in all probability, a hotel's health centre that is equipped with hot tub and sauna as well.
The car industry knows that for all their massive advertising and marketing budgets, what makes the biggest difference towards closing a sale is when a customer takes a test drive.
And effectively, these holidaymakers and tourists have been test-driving spas, saunas and pools for an entire fortnight.
In order to capitalise on this, you can't just assume that people will return from their holidays thinking, 'Well, we better buy one of them, then'. You have to reach them with a marketing message that resonates with their recent experience and motivates them to buy one of your products from your business.
So what are the ways that you could achieve that?
Using your customer database.
E-mail marketing is one of the more popular marketing mediums within the wet leisure business.
Your customer database should include not only your existing customers but also anyone who has made an enquiry to your business and any contacts that you have made at shows and exhibitions.
In other words, it should include leads and prospects as well as actual customers.
Over the course of the summer and the subsequent month or so, send out a few newsletters or e-mail promotions that are tied to the sort of experiences that they might have had on their holiday.
Make the most of social media.
Some things are a natural fit with social media and if you are on Facebook then you will know how people like to share their holiday stories and snaps with all their friends.
Use your social media presence to engage with your customers; ask them where they are going on holiday and whether they will be enjoying a pool, a hot tub or a sauna while they are away.
Get conversations going that will attract other people to comment and become involved and drop in the occasional sales message but you do need a lightness of touch with this sort of approach.
Tactical advertising.
Your business might be somewhere near an airport or a major train station. People returning from their holidays are likely to be passing through these paces.
Consider booking one or two poster sites just for the summer months or using one of the 'mobile media' services where a poster on a trailer is 'parked' in an appropriate place for a few weeks.
Whether you use any of these methods or make use of another opportunity that comes to your attention, the point is to get the right message to your customers and potential customers at just the right time. That is what maximises the affect of your marketing efforts.
We hope that this article has been of interest to you.
If you have a comment to make or there is anything you would like to add to this article, then please use the comment box below and get the discussion started.
The concept behind WetLeisure.co is to make business growth for those working in the industry a reality and if you follow WetLeisure on Twitter, you will get notifications on free business support articles.