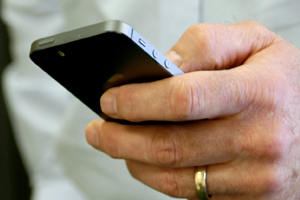 Using text messaging to keep in touch with your customers can be simple, straightforward and cost effective; so much so that you can probably do it yourself.
'Just text me.'
People are very happy to communicate by text these days. Friends, family and colleagues stay in touch by sending each other a quick text (SMS) and it has become a part of our daily lives that we accept and appreciate.
Texts aren't as intrusive as a phone call.
If someone is in a meeting or otherwise unavailable, the text just sits on their phone until they are ready to read it.
You can reply to text when you want and when you have thought about the message; that isn't true for answering the phone when it rings.
Texts are cheap. Texts keep communication brief and to the point.
There are many good reasons why the world has embraced texting and the growth of text messaging is all the more impressive when you remember that mobile phone companies originally supplied the service as an add-on. They supplied the SMS to their customers just because they could and didn't expect many people to use it.
But all the reasons that have made text messaging popular have made text marketing popular as well.
[adrotate group="4″]
The benefits of text marketing.
A text goes straight to your customer. It doesn't sit in their email inbox nor does it sit in their postbox.
Everyone gets junk mail and junk email (spam) and they are used to sifting through it and binning or deleting what they don't want or need.
In the main, if someone receives a text, they'll read it and almost certainly so if it is from someone they know – like you.
Of course, like all direct marketing, the message needs to be of value to your customer.
Perhaps you get a text from your garage when your MOT or car service is due? That is a pretty good example of good use of text marketing. You are grateful for being reminded, you don't mind the 'intrusion' and you'll probably go and have the work done by the people who sent you the text.
The same tactic can work in the wet leisure industry.
Keep an eye on the calendar and the forecast, and you can tell your customers when they will benefit most from opening their pool.
Keep good records and you can remind your customers when they are probably due to need more chemicals for their pool or spa.
Those same records will tell you when to remind customers about maintenance and service visits.
Text messages can also be used to promote special offers or spread the word that you are stocking new products.
The secret is to always make sure that the message will have value for the customer and that you don't overuse texting and become an annoyance.
There are text-marketing companies who will look after the writing and sending of texts for you, but for most wet leisure businesses the numbers are probably such that with a bit of thought, care and planning, you can do it yourself. And that makes the text even more personal and strengthens the relationship between you and your customers.
A few tips on how best to use text marketing.
Ensure the reason for the text is clear. You want the recipient to act on your text, so tell them what they need to do to benefit from the information they have received.
Pick the right time to send the text. Again, make it fit in with your customers schedule rather than how you want to organise your day. Messages can always be saved in 'draft' and then simply sent at the right time.
Keep it short, keep it simple.
As more and more people use smartphones, including a link to a page or product on your website may be worth considering.
We hope that this article has been of use to you.
If you have a comment to make or there is anything you would like to add to this article, then please use the comment box below and get the discussion started.
[adrotate group="4″]